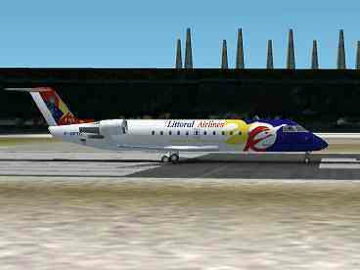 The delivery of a new aircraft is always a highlight in a VA history. Typically, an aircraft is chosen for its performances, according to expectations from crew members, and passengers.
After the delivery of the first aircraft featuring Littoral Airlines colors in July 2002, the elegant Canadair Regional Jet CRJ100-ER, a second one was delivered in September 2002 with house colors, the Beech BE58. On October 9th 2002, the Boeing 737-400 takes off in its Littoral Airlines livery. And the most expected of all, the ATR42-500 leaves the painting workshop on November 4th 2002 to start a long career within the company. On January 3rd 2003, the fifth aircraft, CRJ200-ER finally arrives at Terminal Bravo in Lille: pilots of the company love him!
Then, the delivery flow goes on with the arrival of highly expected Airbus 320-200, who leaves the painting workshop on February 1st 2003. Rating classes for the pilots are mandatory. The electric flight controls era leads to a modernization of the fleet.