Here is the table of the AIR LITTORAL network as it existed in 2003.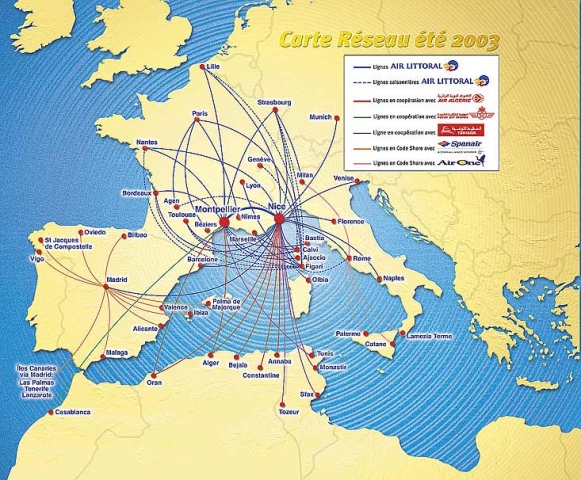 In 2002, year of the creation of Littoral Airlines, the network of our VA is modelled on that of AIR LITTORAL to be faithful to the regional cartography of its inspiration company, which served from Montpellier and Nice, the French cities of Lille, Paris, Nantes, Bordeaux, Toulouse, Strasbourg, Béziers, Nimes, Lyon, Ajaccio, Bastia, Calvi and Figari. This network was extended to some European destinations in Germany, Switzerland, Italy and Spain. These routes would not have been complete without other services in the Mediterranean basin, mainly in Morocco, Algeria and Tunisia.
However, a major exception has been admitted: Littoral Airlines has provided its deserts from Lille airport (its former headquarters) and not from Montpellier-Méditerrannée.
With the disappearance of the company AIR LITTORAL in 2004, Littoral Airlines reconsiders its entire network. In 2014, 10 years later, the headquarters of Littoral Airlines is transferred to Montpellier-Méditerrannée on its original land. 
The current network of Littoral Airlines is based on a system of hubs dedicated to each of the divisions VIP, PAX and Cargo, with the exception of the flying club, located in Muret-l'Herm since the origin of the VA. These hubs are as follows:
VIP Division: Main hub located in Nice. 1 annex in Cannes and 5 secondary hubs: Paris Le Bourget, Miami, Los Angeles, (+ a connexion with Kansas City Pax division hub) for the USA, Dubai in the Emirates and Singapore.
PAX Division: Main hub at Paris Orly. 3 secondary hubs: Montpellier-Méditerrannée, Nice-Côte d'Azur and Kansas City in the USA
Cargo Division: Main hub located in Montpellier. 8 secondary hubs around the world, including : Chicago (USA), Brasilia (Brazil), Nairobi (Kenya), Douala (Cameroon), Singapore (South of Malaysia), Tokyo (Japan), Sydney (Australia), Thahiti (French Polynesia)
Generic map of the current network of Littoral Airlines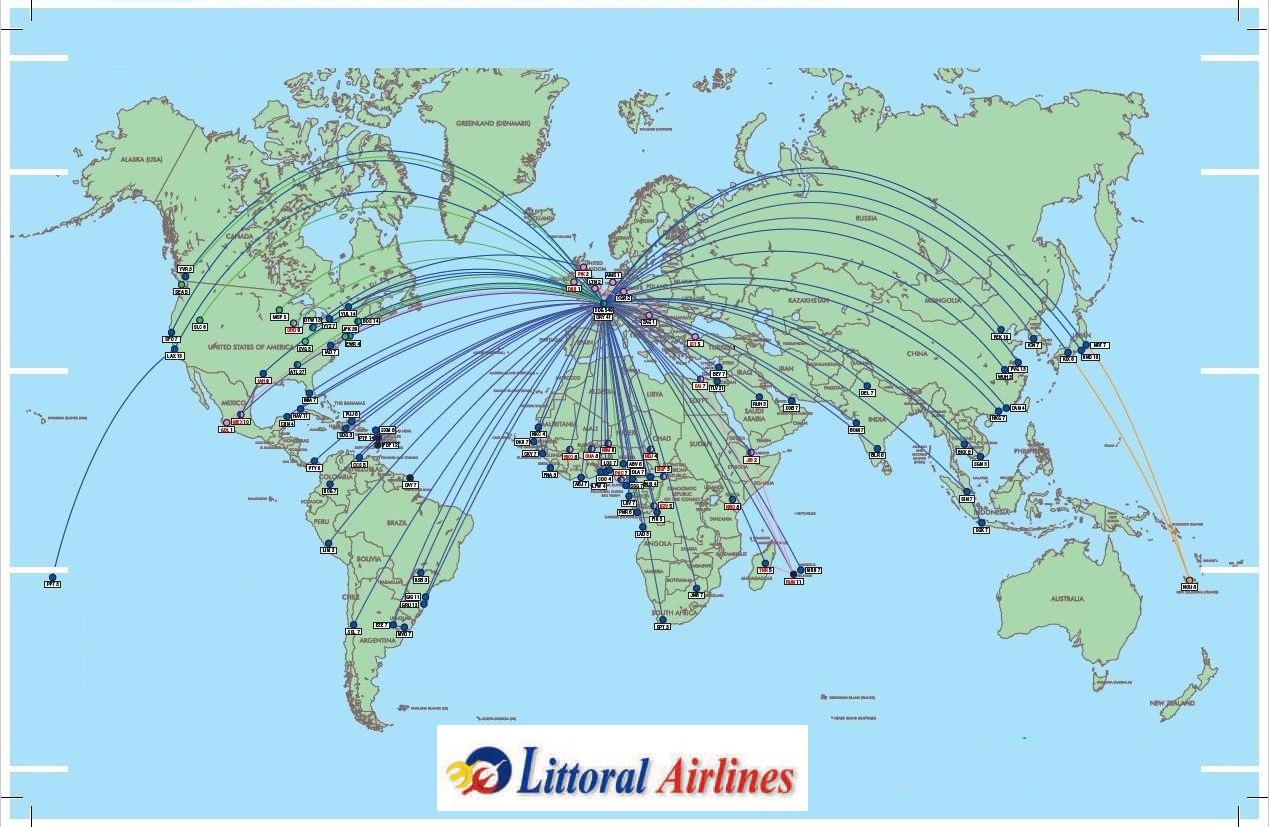 The establishment of these different hubs, judiciously chosen, allows Littoral Airlines following its expansion to ensure a "world coverage" in terms of intra and intercontinental destinations, as it is not completely shown (above), the generic map not detailed of the network (map of lines and hubs not exhaustive, for a better projection of the intercontinental coverage).
The regular VIP, PAX and Cargo routes are thus based on the hub network. But what are hubs for? They are airports chosen by the company to serve as hubs for a significant portion of its flights and to ensure rapid and guaranteed connections. They are poles, hubs, and converging points of the transport network that are both crossroads and gateways: many passenger and freight flights pass through them without making them a final destination. This concept is therefore taken up by Littoral Airlines to cover the various needs of its pilots in terms of activity on the IVAO network.