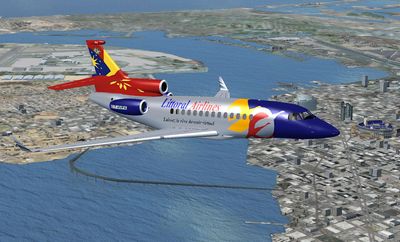 The VIP (DVIP) division is based on Nice-Côte-d'Azur airport (LFMN) since May 20, 2019, the main hub,  where are stationed the medium-sized, BBJ and large carriers of the VIP fleet after having been located since 25th July 2008 at Cannes-Mandeleiu which is the second business airport in France, after Le Bourget (secondary hub of the DVIP).  So the DVIP also keep an antenna and hangars located on Cannes-Mandelieu airport (LFMD) . A helicopter is also permanently stationed there to ensure VIP air shuttles between Cannes and Nice on demand.
On July 1, 2019, the VIP division inaugurated 4 new hubs. Two in the USA and one in the United Arab Emirates and one at Singapore: Los Angeles (KLAX), the cradle of Hollywood cinema and home to all the stars of the world, Miami (KMIA) in the very attractive state of Florida. Dubai (OMDB) renowned for its luxury shopping, its artificial islands, its ultramodern architecture and its lively nightlife. In partnership with Emirates airline, the opening of a new office for helicopter flights over the city and for Dubai - Muscat (Sultanate of Oman) (OMAA) rotations have been announced. Singapore (WSSS), this Southeast Asian island-city-state is a concentrate of the Far East with its blend of Malay Chinese and Indian cultures. This country has become one of the most prosperous in the world with its garden city, its skyscrapers, its shops...and is as the crow flies 2 hours from Bali.
This operation is part of a development plan on which the division relies to defend a policy of international openness that has become essential. A development supported by strong demand from its middle- to high-end clientele, which includes, among others, regardless of wealth, emirs, diplomats, managers of multinational companies, artists of all stature, investment bankers, annuitants, lottery winners, top-level sportsmen and women and their buddies, etc....
New lines were therefore opened at the departure and arrival of these four new hubs and a connection was created with our Kansas City (KMCI) PAX Hub from Miami and Los Angeles.
The division offers a high end service to its most prestigious customers for specific event, such as Cannes Film Festival for example. A fleet of prestigious aircraft, from monoturbine to widebody (eg the TBM 850, Cessna C550 Citation II, Falcon 2000, Falcon 7X, EMB-145, Learjet 45, KingAir 350, BBJ B737-800 VIP, B777, B747 ACJ A319, A350...etc ...) as well as dedicated crews are available to meet their needs and carry them to wherever they wish.
The division operates based on several available 24H24 flights (with our without prior booking), but also may operates for some occasional events and flash flights. In these cases, all necessary information will be communicated to crews through a briefing.
The flash flights are based on the principle of 24H24 private service for a high-class VIP clentele. Business men and women, personalities from the world of culture, show business, cinema, top athletes, politicians and even miliardaires in viliégiature contact the company to organize for example a transfer to Dubai, trips during a music tour, the promotion of a film, a medical emergency, a business luncheon, trade fairs, seminars, parades and other manifestations of prestige... At Littoral we know the need for discretion and efficiency of our customers and our crews are trained to meet their expectations in the best conditions of satisfaction and comfort. It is nice to say that glory is not the key to happiness, however for the large majority of our customers celebrity does not bring only disappointments, on the contrary...
Nice flights to all!
The V.I.P. division administrator.